FURresh Dog Meal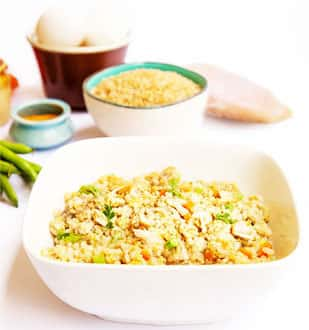 Do You Know?
That commercial dog food comes with a lot of health issues like Obesity and Cancer? They are just like fast food that has unhealthy fats and high sugar and salt content. A concerned pet parent would only want the best food for their pet. So, the next option would be a home cooked meal. But, do you honestly have the time given the pressures of work life to cook a homemade meal for your pet? If you do, can you ensure they meet your pet's daily nutritional requirements?
Ingredients
Well, this is where we step in. FURresh is an authentic home cooked style meal made with fresh vegetables, whole chicken, brown rice, eggs, flax seed, turmeric and coconut oil.
How to use
It is uniquely packaged in a way that the fragrance, freshness and the nutrients remain intact. It needs to be kept in the refrigerator once delivered and needs to be kept out to return to normal temperature at mealtime. Once micro waved for 3-5 minutes it can be served to your pet.
TREATS Starts from ₹200 for 100GMS
MEAL TOPPERS ₹300 for 100GMS
SUPPLEMENTS ₹400 for 70GMS
MEALS
*Free ( We deliver only in Bangalore)
Contact - 9916339770 / 9886919968 for any Queries.